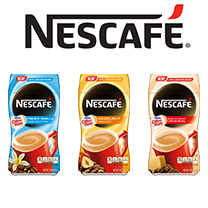 Nescafe with Coffeemate is the new deliciously flavorful 2 in 1 coffee+ creamer combination!!
For an amazing price of just $4.98 each!! It comes in 3 awesome savory, delicious flavors like French Vanilla, Hazelnut, and of course my very favorite Original!! They come in a 12 ounce. can and very easy to use!
1. Add 2tbsp. of your choice of Nescafe Coffemate into a mug.
2. Ass 6 fl oz of hot water into you mug.
3. Stir well
4. Enjoy!!
I drink a cup of Nescafe Coffeemate every morning!
You can also enjoy some and you can receive $0.75 off coupon on your purchase by going
Here!!
Sharing is caring , and what better way than to enjoy a nice
cup of warm/hot Nescafe Coffeemate!
I love coffee but not just any coffee I have always loved Nescafe and Coffeemate! And now that they have teamed up together I am even more thrilled!!
Delicious frothy, creamy and amazingly yummy!!
The smell and taste is amazing and I highly recommend to all coffee drinkers that love to add creamer to their coffee, also this does not need sugar it is also added. To me the combination is perfect, I do recommend you shake the can before you open it, but other than that, it is great as it comes!!
Enjoy some delicious Nescafe Coffeemate as we did!
Go
HERE for a $.75 cent Off Coupon
Disclosure: I received no monetary compensation for this post. As a member of Smiley360, I received free NESCAFÉ with Coffee-mate and product coupons for review purposes.